Life Skills Through Circus Skills
Children are naturally curious and are frequently motivated to try new things they've witnessed. This is especially true with circus skills! We offer a variety of educational outreach and arts-in-education programs for children of all ages to do exactly that; experience the circus through hands-on learning. Our programs offer challenges that help develop patience, self-discipline, and creative thinking and communication skills, without being overwhelming or frustrating. We will work with you to design a circus experience that suits your venue, your participants, and your budget. All programs can be customized to better fit your needs. Circus Splendiferous will provide all equipment and liability insurance for programs.
An interactive and entertaining 45 minute show designed to stimulate children by reigniting their imagination and curiosity. We tackle problems such as team work, patience, creative thinking, and communication through circus skills such as clowning, acrobatics, prop manipulation, and aerial feats. In addition to these critical life skills, we also seek to incorporate content from a variety of academic subjects into each performance. Our hope is that every child leaves feeling invigorated and inspired to take on any challenge that comes their way!

Mickey & Jesse, Acro, WCA "Circus Ta-Da!," Liflander Photography

Jesse, Aerial Silks, Westchester Circus Arts
Have our professional circus trainers come to your facility and conduct circus classes during regularly scheduled P.E. classes! We offer both day and week-long intensive options in which students will have the opportunity to learn every skill under the circus tent, ranging from juggling to clowning to aerial silks! During each class, students are divided into circus skill stations where they are given a demonstration and instructions to try the skills themselves. Groups then rotate around the room to experience all the circus stations. Students are challenged to reach for the stars and empowered to unlock their full potential! 
An "Assembly Show" can be added in conjunction with our intensive programs to be performed on the 1st day.
The "Dare to Dream" Program

This program offers a more in-depth circus experience for one grade during a week-long intensive. The "Dare to Dream" Program will challenge students to train more extensively in order to create acts they will perform alongside their professional trainers in a show at the end of the week which can be open to family, teachers, and other students. This allows students the opportunity to further develop their skills and experience the thrill of performing!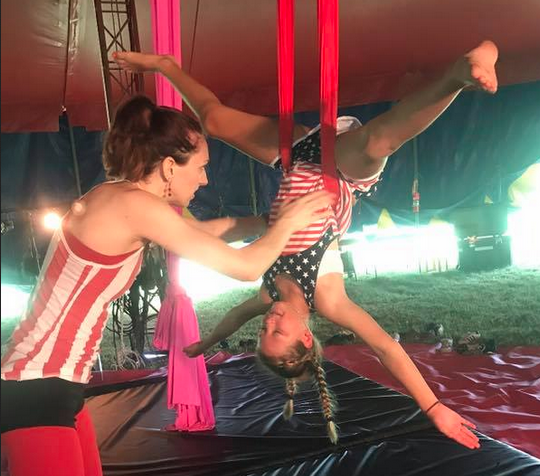 A residency circus camp is offered as a 1-2 week-long day-camp during the summer and/or during school breaks. Youth aged 7-18 (from beginner to advanced) will experience all facets of circus life, from flexibility and strength training, to new skill development, to act creation and performing. Though students will be exposed to all circus skills (such as wire walking, clowning, partner acrobatics, juggling, stilt walking, and aerial arts), they will also have the opportunity to specialize in 3 skills of their choice. On the last day of camp, each child will demonstrate their new skills in a full-scale performance open to the public. We offer a safe, fun, and constructive environment designed to boost confidence and creativity! Come run away to the circus with us!
Aimed either towards high-school and college aged young-adults or geared more towards instructors, master workshops offer training in specialized techniques used throughout physical theatre. These customizable workshops are designed to delve deeper into the philosophies and techniques associated with physical theater and performing. Master classes cover: clowning, mask-work, Commedia dell'Arte, Meisner-Meyerhold Method, and Jacques Lecoq's Method.

The Splendiferous Method
Our Circus Enrichment Programs are designed to complement and enhance STEM learning. We do this by incorporating concepts children are learning about in the classroom with related concepts from circus skills. Every subject is approached with a hands-on method that utilizes physical activity to broaden and advance childrens' knowledge of how the world around them works. We challenge both mind and body simultaneously by engaging memory, critical thinking, and problem solving skills in conjunction with physical skills. Our aim is for children to leave our programs with a deeper understanding and cognitive recognition of how circus skills can inform life and how the two are interconnected. 
Our technique not only challenges children as individuals (developing patience, self-discipline, and creative thinking skills), but it also seeks to challenge them as a group. We actively promote team building, communication, and social integration. We foster a positive and welcoming environment for children that helps prepare them for their futures. Our hope is that students leave confident, curious, and ready to pursue  their dreams knowing they can succeed. 
"We have had a number of different workshops with Circus Splendiferous as presenter. Each one was carefully prepared, expertly presented, and rousingly successful.
There are always requests from participants to have more of these workshops. There is such expertise and such joy in the presentations! It is impossible not to be captivated by the work of these talented artists."