In the warmer months, we're located at
60 Colonial Rd, Stamford, CT 06906
We can also offer lyra/hoop & circus sling/hammock, upon request.
Classes will be outdoors, so they are weather dependent.
If you'd prefer, we can come to you on our portable rig!
In the colder months, we're located at
Tarrytown Music Hall, in Tarrytown NY.
 This location can only offer aerial silks.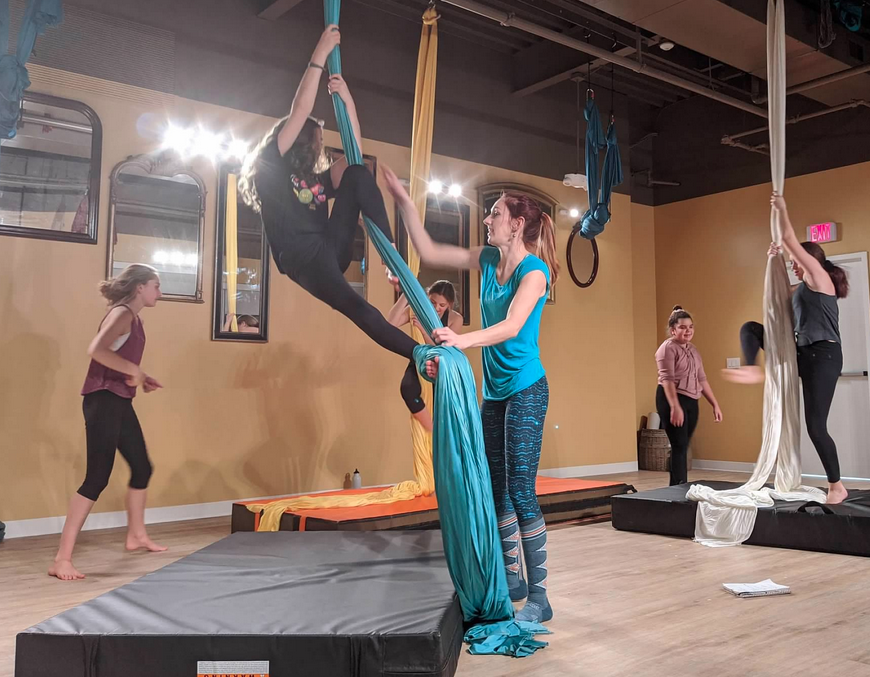 Aerial Silks (also known as Aerial Tissue, Aerial Ribbons, or more simply, Aerial Fabric) is a form of gravity-defying creative movement featuring a column of fabric rigged overhead, on which an aerial artist will demonstrate acrobatic movements and poses. Silks differ from hammocks in that the fabric is rigged with two hanging "tails" instead of a loop or hammock – as such, silks offer less support and build more upper body, core, and grip strength. With its grace, beauty, and astounding demonstration of strength, silks are a great way to unleash your inner circus artist while getting a fierce anaerobic workout!
Gain strength and grace as you take to the skies! In Intro to Silks, students will learn proper climbing techniques, basic inversions, foot-lock skills and hip keys. As students build more strength and confidence, new poses and sequences will be added.

(No prerequisites are needed!)
Level I Silks (Advanced Beginner):
This class is recommended for students who are ready to advance their silks practice and build up their grip and core strength! Students will learn more intricate wraps, sequences, and drops! Instructors "teach to the room," offering modifications for beginners and more advanced options to challenge more experienced students.
(Pre-reqs: Straddle-invert from ground on own – no assistance or jumping, Basic Fig 8 climb, Footlocks from ground, Hipkey from ground.)
Level II Silks (Intermediate - Advanced):
The most challenging of our aerial classes, students will learn new wraps, transitions, and sequences as well as work on the skills necessary to stay in the air for longer periods of time. More dynamic and complex drops and sequences will be added as students progress.

(Pre-reqs: Climbing to the top of the fabric, Hipkeys and Foot-locks in the air, Straddle-invert in the air with no assistance.)